DK M-Tech at Korea Ocean Expo
Boxfish Robotics ROV reseller DK M-Tech will be exhibiting at the Korea Ocean Expo this week – 22-24 June 2022. If you're visiting the event, stop by their stand. And learn more about our ROVs for search and rescue (SAR), recovery, inspection and biosecurity.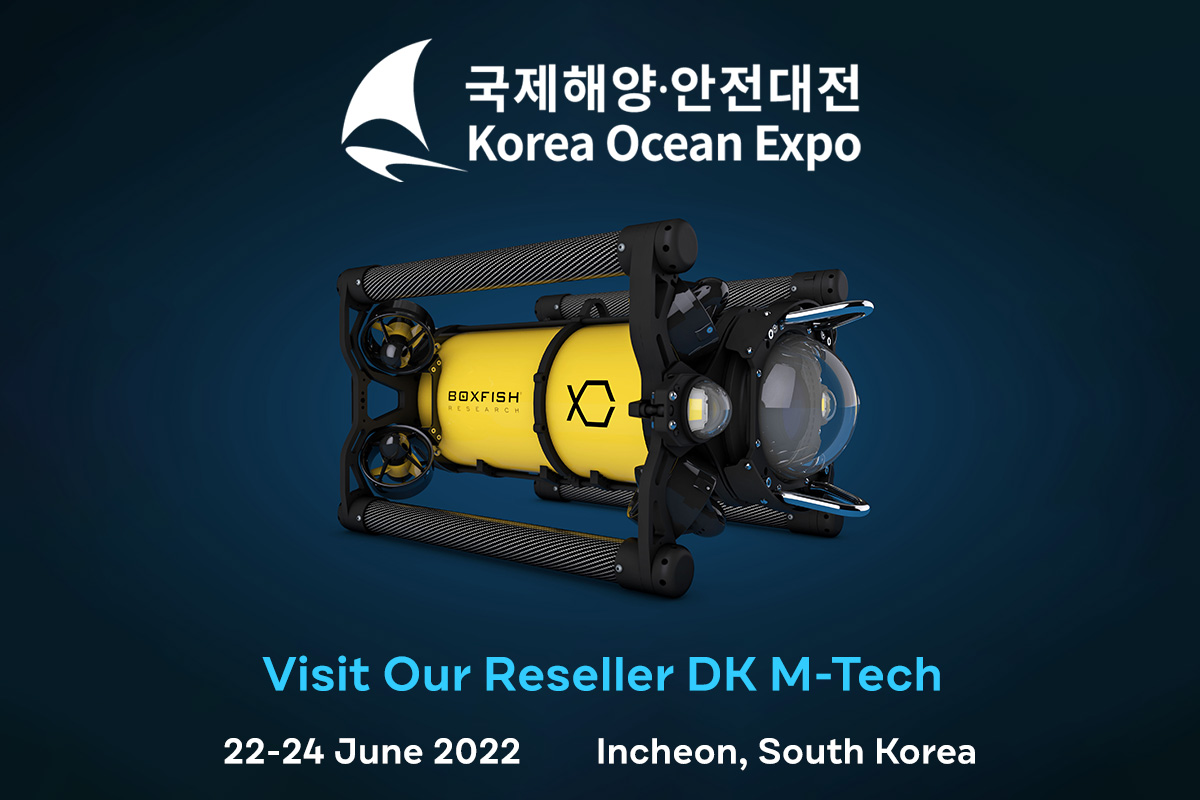 The Korea Ocean Expo is a specialist marine exhibition combining Maritime & Safety Equipment Korea and Workboat Korea events. The Korea Coast Guard hosts it with the support of national agencies responsible for national marine safety.
Located in the metropolitan area of Incheon city, the Korea Ocean Expo is co-held with business forums for industry experts. It attracts 20,000 visitors and over 200 companies as exhibitors. The event aims to promote synergy among different industries.
Boxfish ROVs for Inspection, SAR and Recovery Missions
DK M-Tech will be introducing our observation-class remotely operated vehicles to the Korean marine industry. They will specifically showcase Boxfish ROV and Boxfish Alpha.
Boxfish ROV is a versatile, industry-leading ROV for inspections and expeditions. Boxfish ROV integrates a superior 4K front camera for inspection videography and two 180-degree navigation cameras ideal for traversing murky water. Its active stabilisation system and thruster layout allow users to position the underwater vehicle precisely, even in strong currents. The ROV is portable and lightweight, and a team of two can deploy it without additional equipment.
Boxfish Alpha is an indispensable tool for search, rescue, and recovery missions. It is designed for asset inspection, observation and light intervention work and uses many of the same components as the 1000m Boxfish ROV. However, Boxfish Robotics has customised the ROV to streamline underwater inspection tasks and reduce costs while retaining functional flexibility. 
If you're in Korea, visit DK M-Tech at Korea Ocean Expo. It's an excellent opportunity to learn more about our ROV technology solutions for inspection, biosecurity, SAR and recovery missions.
About Korea Ocean Expo
Date: Wednesday, 22 June to Friday, 24 June 2022
Time: 10:00-17:00 (Friday 16:00)
Venue: Hall 1,2,3 Songdo ConvensiA, Incheon, South Korea
Website: Korean Ocean Expo
About DK M-Tech
DK M-Tech is a leader in the Korean maritime industry. They introduce state-of-the-art marine equipment and systems to the market. Established in 1994, the company has a reputation for developing strong customer relationships by focusing on customer success and trust.