ROV Control System Updates
We continually develop and improve our robotic technology, upgrading electronics, refining systems, improving ROV control and adding new features.
Boxfish Robotics notifies customers via email when firmware updates are available. The update installation process is very straightforward and involves copying files from our website or email onto a USB stick and inserting it into the control console. This process simultaneously updates the ROV and control system. There is no charge to customers for firmware updates.
Recent Updates to ROV Control Systems & Console
Support for quick adjustment of aperture and ISO using new rapid set dial on Boxfish Luna console
Overlay added to 4K Video feed with Data Overlay Unit (allows overlaying depth, time, GPS coordinates with USBL as well as sensor data onto video feed)
Control console input voltage added to display on the GUI
Added independent lighting controls for the Boxfish Luna
Safety feature added to prevent inadvertent compass calibration
Improved yaw control
Button added to restart the Boxfish Luna camera system remotely
The compass display is now more intuitive and also includes gyro data
Bug fixes for GPS and USBL app
Bug fix for the mode switch
About Our ROV Control System Console
The Boxfish ROV control console (control panel) is a multifunctional surface unit. It is used by operators of the remotely operated vehicle to:
Receive and view and telemetry data from the ROV
Pilot the ROV
Remotely control the zoom and focus of the front camera
Record the video feed from the ROV's main camera
Plug in optional ROV accessories or connect a computer
Update software and firmware for the ROV and Control Console
Retrieve logs from the ROV after a dive
The control console includes a 17" 4K monitor allowing users to view live, uncompressed video from the primary camera. It is complemented by a secondary screen displaying footage from the ultra-wide angle navigation camera(s) and a telemetry display with essential ROV data.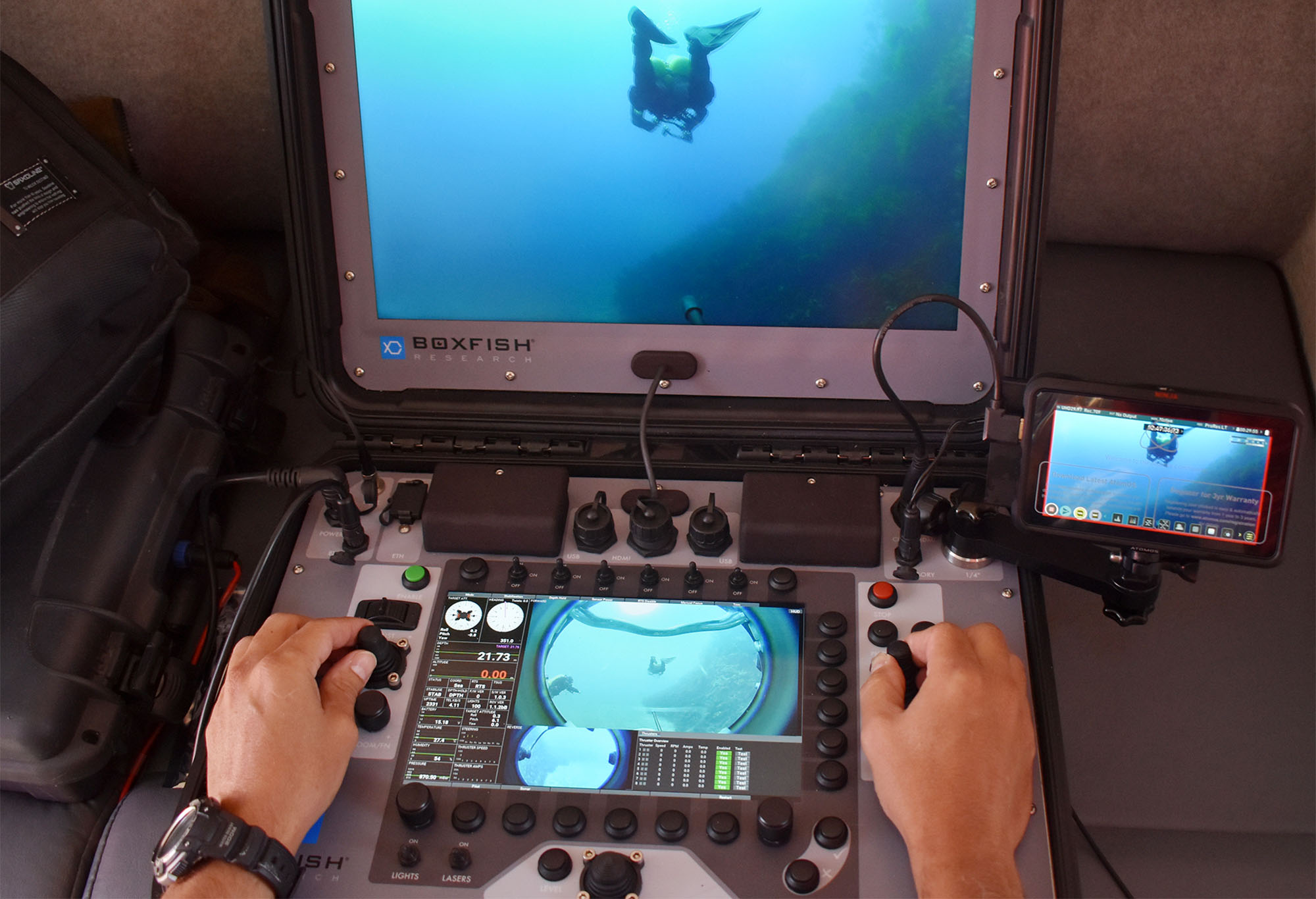 Surface Control Console Features
✅ 17" 4K UHD main display
✅ Intuitive layout
✅ Three proportional joysticks for easy control
✅ Weatherproof design
✅ Multiple connections for ROV accessories, e.g. USBL, DVL and Sonar.
Visit our product page to learn more about our expeditionary class Boxfish ROV, our inspection class, Boxfish Alpha ROV and our professional cinematography drone, the Boxfish Luna. Further information about available add-ons for our remotely operated vehicles is available on our accessories page.
Keep in touch
Sign up for our newsletter